---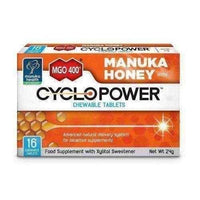 Sale
CycloPower with xylitol and Manuka Honey MGO 400+ thanks to the content of valuable components contributes to reducing the level of glucose in the blood (especially after meals, which consist of starch products).
Composition:
1 tablet contains: Xylitol 43% (sweetener), alpha-cyclodextrin 29.3% - 0.43 g, Manuka honey MGO® 400+ (Leptospermum scoparium) 24% - 0.36 g, magnesium salts of fatty acids ( anti-caking agent), silicon dioxide (vehicle).
Action:
CycloPower with xylitol and MGO 400+ Manuka honey is a food supplement with a unique composition. It has the alpha-cyclodextrin - an ingredient derived from vegetable fibers. It is a natural mixture of glucose molecules of the starch produced. It is multi-functional, soluble dietary fiber. Taking this component before meals containing starch helps to reduce blood sugar after food intake. Xylitol supports the process of mineralization of teeth. Preferably the formulation components affect the activity of the gastrointestinal tract. CycloPower with xylitol and MGO 400+ Manuka honey has the form of tablets for sucking.
Contraindications:
- Hypersensitivity to the active components of the product
Indications:
The product is recommended to be used to supplement the daily diet with ingredients to lower blood sugar levels.
How to use:
Apply orally for sucking. It is recommended that the formulation up to six tablets a day.
---