---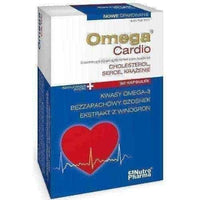 Sale
D3 mono 1000j.m is a dietary food for special medical purposes containing 25mg of cholecalciferol in each capsule.

Inclusion in this diet recommends, inter alia, the prevention of osteoporosis.
D3 mono 1000 IU Ingredients:
Soybean oil; gelatine; humectant: glycerine; aroma: ethyl vanillin; dyes: iron oxides and hydroxides; cholecalciferol.
Vitamin D content in one capsule: 25mcg (500% recommended daily intake). Nutritional value in 1 capsule: energy value - 5,3kJ / 1,3kcal, protein <0.1g, carbohydrates <0.1g, including: sugars - 0,0g, fatty acids - 0,1g, including saturated fatty acids <0.1g, dietary fiber - 0g, sodium <0.1g.

Vitamin D content in 100g: 12.2mg. Carbohydrates - 14,6g, including: sugars - 0,0g, fats - 48,8g, including: saturated fatty acids - 9.8g, dietary fiber - 0g, sodium <0.1g.
D3 mono 1000 IU Action:
Vitamin D is essential for the body. Thanks to it we can enjoy strong and healthy bones and teeth. It also contributes to better absorption of calcium. Cholecalferferol supports the maintenance of proper muscle function and supports the immune system. The preparation was made using the "softgels capsules" technology, whereby vitamin D was dissolved in oil and encapsulated. This way it is better absorbed, ie its bioavailability increases.
D3 mono 1000 IU Application:
Dietary food for special medical purposes D3 mono 1000j.m. intended for use in dietary management in conditions of reduced immunity of the body resulting from cholecalciferol deficiency; in osteoporosis and in prophylaxis of this condition; In the state of vitamin D3 deficiency in the body.
Additional information:
Contains soybean oil, produced from GMO soya beans. Free from lactose and gluten. Suitable for diabetics. It can not be used parenterally. In the case of simultaneous use of other preparations with vitamin D and in case of kidney stones, renal failure or hyperparathyroidism, start taking D3 mono 1000j.m. Consult your doctor. Keep product out of the reach of children at room temperature.
Contraindications:
Do not use in case of hypersensitivity to any of the ingredients.
Usage:
Use under medical supervision. Take 1 capsule a day. Do not exceed recommended servings for consumption during the day.
Net Weight: 18g.