---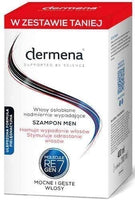 Sale
DERMENA MEN Shampoo for men duopack 200ml + 200ml, mens shampoo
DERMENA MEN Shampoo for men is a cosmetic that has proven to stop hair loss and stimulate its natural growth. The shampoo formula contains the Regen7 Molecule (1-methylnicotinamide chloride) - a substance protected by patent law.
Active mens shampoo ingredients:
Regen7 molecule (1-methylnicotinamide chloride), a metabolite of nicotinamide (vitamin PP), a substance protected by patent law, H-VIT - a natural active multi-complex with plant extracts: glycyrrhiza glabra, rosa centifolia, cichorium intybus, rhodophycea, bertholletia excolla) and biotin.
The other mens shampoo ingredients:
Aqua, Sodium Laureth Sulfate, Cocamidopropyl Betaine, Laureth-3, Propylene Glycol, Coco-Glucoside, Glyceryl Oleate, Peg-40 Hydrogenated Castrol Oil, Parfum, Dmdm Hydantoin, Methylparaben, Propylparaben, Phenoxyethanol, Glycyrromeractiza, Glabra, Rose Extract Cichorium Intybus Leaf Extract, Bertholletia Excelsa Seed Oil, Hydrolyzed Rhodophycea Extract, Menthol, Biotin, Panthenol, 1-Methylnicotinamide Chloride, Hydroxypropyl Guar, Hydroxypropyltrimonium Chloride, Lactic Acid.
DERMENA MEN Shampoo for men duopack, mens shampoo Action:
Dermena Men shampoo is a preparation with caring and cleansing properties. It contains ingredients that actively counteract the process of excessive hair loss and effectively stimulate their growth. The formula of the shampoo contains H-VIT multi-complex, which inhibits the action of dihydrotestosterone (DHT) - a substance that causes male pattern baldness. In addition, the rich composition of the shampoo, including the patented ingredient - Regen7 Molecule (1-methylnicotinamide chloride) affects the regeneration and rebuilding of the hair structure, which in turn ensures health and optimal nourishment for the hair. Vitamin PP metabolite has a positive effect on the microcirculation of the scalp and prevents greasy hair and irritation on the scalp. 
Indications:
The shampoo is especially recommended in the case of excessive hair loss in men and at the time of noticing the first symptoms of male pattern baldness (hair thinning, receding hairline).
Directions DERMENA MEN Shampoo for men duopack, mens shampoo for use:
Apply the shampoo to wet hair and massage it carefully until it lathers. Then rinse thoroughly. Dermena men shampoo can be used daily.