---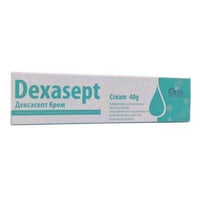 Sale
Dexasept cream 40g / Dexasept
Dexacept cream contains 5% panthenol (provitavin B5), which accelerates the natural process of skin regeneration, helping for rapid recovery. The composition also includes Chlorhexidine digluconate 0.2% with antiseptic action and 5% Sweet Almond Oil.
Hydrates

Soothes

Restores the elasticity of vulnerable and sensitive areas of the skin of the body.
Dexasept cream Action of the active ingredients:
Panthenol - provitamin B5 is rapidly converted to vitamin B5 (pantothenic acid), a major component of coenzyme A, which plays a key role in the mechanism of cell and tissue repair. Panthenol has a stimulating effect on the synthesis of keratinocytes and the spread of fibroblasts in the epidermis and dermis and therefore plays an important role in the process of skin regeneration. Restores skin firmness and elasticity. Provides protection from adverse environmental factors
-Stimulates the recovery of skin cells
- Soothes: irritation, burning and itching
- Moisturizer: reduces water loss and maintains the softness and elasticity of the skin
Chlorhexidine digluconate 0.2% - antibacterial action and long-lasting effect. Prevents infection of wounds by fungi and bacteria.
Sweet Almond Oil - Almond oil has a rich fatty acid composition and is suitable for all skin types. With its extremely light texture, it absorbs quickly and soothes, while nourishing and stimulating the renewal of the skin epidermis.
---