---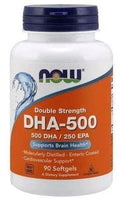 Sale
The product is recommended primarily for people who do not eat fish and are looking for a way to supplement their daily diet with Omega-3 fatty acids. The DHA 500mg dietary supplement contains tuna liver oil - a source of DHA and EPA acids.
DHA 500mg, dha supplement ingredients:
Fractionated Tuna Liver Oil (DHA / EPA 50% / 25%); capsule material: beef gelatin; dissolving agent: vegetable glycerin, water; film-forming substance: cellulose; antioxidant: d-alpha tocopherol from soybean extract (non-GMO). Allergen information: contains products derived from fish and soy.
The content of ingredients in the recommended daily dose (two capsules): Fractionated tuna liver oil (fish oil) - 2000mg, including: docosahexaenoic acid (DHA) - 1000mg, eicosapentaenoic acid (EPA) - 500mg.
Action of  dha supplement, DHA 500mg:
The preparation is characterized by a high content of docosahexaenoic acid and eicosapentaenoic acid in one capsule: DHA acid - 500 mg, EPA acid - 250 mg. The source of Omega-3 unsaturated fatty acids used in the DHA 500mg dietary supplement is natural fractionated tuna fish oil. This ingredient is of the highest quality, does not contain dioxins, heavy metals, mercury, PCBs (polychlorinated biphenyls). DHA acid supports the maintenance of correct vision and supports the proper development of the brain. Together, DHA and EPA acids support the proper functioning of the heart.
Application:
DHA 500mg dietary supplement intended for use to supplement the daily diet with DHA acid and EPA acid. For use in adults and children over 4 years of age.

Additional information:
A dietary supplement cannot be used as a substitute, i.e. a replacement for a varied diet. Maintaining a balanced diet and a healthy lifestyle is very important. Store the product out of reach of children, at room temperature. It is recommended to protect against moisture and light. The possibility of using the preparation in women during pregnancy and breastfeeding should be discussed with your doctor. No allergens or ingredients such as yeast, wheat, gluten, milk, eggs or crustaceans were used in the production process. The preparation has been manufactured in a facility that applies the principles of good manufacturing practice (GMP), which processes components of other preparations containing these allergens.
Contraindications:
Do not use in case of hypersensitivity to any component of the dietary supplement.
How to use dha supplement, DHA 500mg capsules:
Recommended daily dose: two capsules. Take one capsule twice a day. Use with a meal. Do not exceed recommended servings for consumption during the day.
Net weight: 275g.
---