---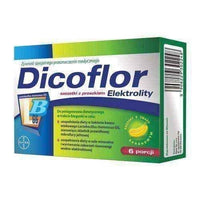 Sale
Dicoflor electrolytes x 12 sachets (6 portions)
Package includes six portions of the formulation, or sachets 12 (6 sachets sachets A and 6 B). Dicoflor electrolytes is a product constitutes a dietary supplement in the case of diarrhea, contains live bacteria cultures, glucose and electrolytes.
Ingredients Dicoflor electrolytes:

Sachet A: maltodextrin, freeze-dried live bacteria (Lactobacillus rhamnosus, in the manufacture of bacteria casein derivative is used, which is not detectable using the analytical methods the final product).
Sachet B: glucose, potassium chloride, sodium citrate, sodium chloride, banana flavor.
The nutritional value in one portion (6.8g) energy value - 99,9kJ / 23,5kcal fat - 0.002g, including fatty acids - 0.001g, carbohydrates - 5,4333g, including sugars - 3,385g. protein - 0.002g, salt - 0.69g, Lactobacillus rhamnosus GG - 5 x 109 live bacteria.
Amount Per Serving: glucose - 14,975g / l, sodium - 1,378g / L, chloride - 1.32g / L, potassium - 0,787g / l, citrates - 2,701g / l. Osmolarity 232,657mOsm / liter.
Nutritional value per 100g: energy value - 1468,4kJ / 345kcal fat - 0.03g, including fatty acids - 0.01g, carbohydrates - 78,89g, including sugars - 49,78g, protein - 0.02g salt - 10,13g, Lactobacillus rhamnosus GG - 1.08 x 1011 live bacteria.
Action Dicoflor electrolytes:

One serving consists of two sachets. A sachet contains live cultures, which are an essential component of the normal intestinal microflora. While B sachet contains electrolytes, or mineral salts, which lead to restore water and electrolyte balance and glucose. These are the ingredients for the body, which is dehydrated due to vomiting or diarrhea. Dicoflor electrolytes helps to reduce dehydration and supports restoring the natural intestinal microflora.
Applications:
food for special medical purposes Dicoflor electrolytes for use in the dietary management during diarrhea, vomiting and dehydration. This product is intended for children and infants.
Additional information:
Keep out of reach of children, because of the sensitivity of live bacteria in the heat should be protected from heat sources and sunlight. Not used as a source of food, also is not suitable for parenteral use.
Contraindications
not be used in case of hypersensitivity to any component of the formulation.
How to use Dicoflor electrolytes:

Use under medical supervision. Unless your doctor tells you otherwise, once a day is recommended to consume the contents of one sachet sachet A and B. The contents of the two sachets dissolved in 200ml of water. Should be consumed immediately after preparation.
Net weight: 40,8g.
Dicoflor electrolytes