---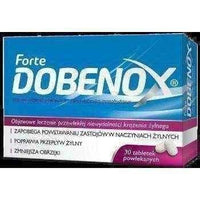 Sale
DOBENOX. Varicose veins of the lower extremities and anus are very cumbersome and often hinder a normal life.

To relieve unpleasant symptoms of these diseases, it is worth using Dobenox 0.25g tablets of calcium dobezylanem monohydrate.
Composition:
active substance - calcium dobezylan monohydrate. Each tablet contains 250 mg of calcium dobezylanu monohydrate and other ingredients: microcrystalline cellulose, potato starch, lactose monohydrate, talc, magnesium stearate, colloidal anhydrous silica, the shell Opadry II 57U18539 White consisting of: hypromellose, polydextrose, titanium dioxide (E 171), talc, maltodextrin, medium chain triglycerides. Information about allergens: contains lactose.
Action:
The drug Dobenox 0.25g contains as active ingredient the calcium dobezylan monohydrate. It affects favorably the venous circulation improves, and it has a protective activity with respect to blood vessels. This substance also reduces the permeability of the vascular wall and reduce excessive blood and plasma viscosity, thereby preventing stagnation and clots in the veins.
Application:
The medicinal product Dobenox 0.25g indicated for the symptomatic treatment of chronic venous insufficiency of the lower extremities, including alleviation of pain and nocturnal leg cramps, leg heaviness, parestazji, edema, skin changes against stasis and varicose veins and symptomatic treatment hemorrhoids.
Additional information:
Keep out of reach of children, at room temperature. Patients with peptic or duodenal ulcer and recurring gastritis and renal disease should exercise extreme caution when taking the drug. Pregnant and lactating women should consult a physician taking the product.
Contraindications
not be used in case of hypersensitivity to any component of the product. Not recommended for use in the first trimester of pregnancy.
Adverse reactions:
Like all medicines, 0.25g Dobenox may cause side effects which usually disappear spontaneously after treatment. Rare (1 to 10 patients out of 10 000): nausea, diarrhea, skin reactions, arthralgia. Very rare (less than 1 in 10 000): agranulocytosis. If symptoms of agranulocytosis, ie, fever, sore throat or throat, pain when swallowing, stomatitis, rhinitis, inflammation of the oral mucosa, inflammation of the genital area and the anus should immediately stop taking and consult your doctor.
Dosage:
Use only as directed by your doctor or as indicated on the flyer. Taken orally. Take after eating. Adults: 2-4 tablets a day. In the case of venous insufficiency is usually adopted two tablets 1-2 times daily in the case of hemorrhoids have been used conventionally 2 tablets 1-2 times daily. Treatment may last from a few weeks up to several months.