---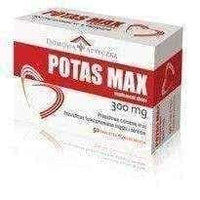 Sale
POTAS MAX is one of the dietary supplements in the form of tablets, which play an important role in the neurotransmitter and have a beneficial effect on muscle activity.

Regulates the acid-base economy.
Composition:
Potassium chloride 572 mg (including ions: 300 mg).
Action:
The product belongs to a wide category of dietary supplements. It consists of potassium, which is involved in the process of conduction of nerve impulses and normalization of acid and alkaline and water management. In addition, it affects the muscle activity of the body (especially myocardial, skeletal muscles). The preparation works well with increased potassium requirements due to physical effort, excessive sweating.
Indications:
The preparation should be used in cases where the body is exposed to significant stress and intense physical and mental exertion. Indicated to supplement potassium levels in the body.
How to use:
Orally administered at a dose of 1-3 tablets / 24h, preferably at the time of eating.
---