---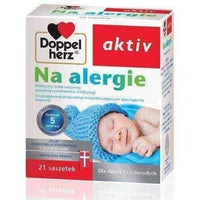 Sale
Dietary food Doppelherz Aktiv allergy is a preparation for special medical purposes. Used for treatment of allergy in children since already the first year of life. The product supplements the diet with live intestinal bacteria.
Composition:
Fructo-oligosaccharides (prebiotic) 68%, 25% fructose, Lactobacillus rhamnosus (DSM code 26357) and Lactobacillus reuteri (code DSM 12246); anti-caking agent silicon dioxide, natural vanilla flavor.
Action:
The product contains 2 strains of bacteria that occur naturally in the human intestinal flora Lactobacillus rhamnosus and Lactobacillus reuteri. By using the latest technology 5th generation bacterial strains show a high resistance to stomach acids and storage conditions. The addition of prebiotic fiber facilitates rapid multiplication of bacteria and their colonization in further parts of the intestine. Prebiotic strains are very effective in the treatment and prevention of atopic dermatitis as well as in controlling symptoms associated with the allergy to cow's milk.
Use:
The formulation used in allergies (eg. Atopic dermatitis, food allergy, asthma). Can be used in children over 1 year of age, adolescents and adults.
Dosage:
The preparation for the adoption under the supervision of a physician.
1-2 sachets a day. Consume immediately with water. Children under 6 years of age be given mixed with summer food. To achieve the desired effect used for at least six weeks.