---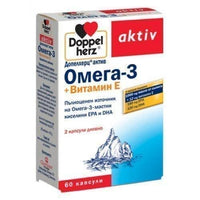 Sale
DOPPELHERZ AKTIV OMEGA 3 + VITAMIN E Application:
Good health and vitality can be influenced by lifestyle. Important factors for this are a balanced diet and sufficient physical activity. Nutrition is very important for heart health. Food affects the level of cholesterol and the balance of triglycerides in the body.

The human body is often stressed due to unhealthy eating, smoking, alcohol intake and limited movement. Stress in personal life, work and being overweight also have a negative impact on our health. The food we eat often contains "bad fats" and too much cholesterol.

OMEGA-3 fatty acids are extremely important for heart health and in particular for the balance of cholesterol and triglycerides in the body.

Omega-3 fatty acids are vital:
Maintain healthy levels of cholesterol and triglycerides

Promote good blood circulation to the brain

Protection and prevention of the cardiovascular system

Prerequisite for healthy weight loss

They support the optimal functioning of the brain and retina

Anti-inflammatory action, especially in arthritis pain

Immunostimulating effect

Omega-3 EPA and DHA acids have a positive effect on many diseases such as: metabolic disorders, atherosclerotic changes in blood vessels, blood clotting disorders, high blood pressure, chronic inflammatory diseases, depression and aggressive behavior.
DOPPELHERZ AKTIV OMEGA 3 + VITAMIN E Composition:
One capsule contains: 1000 mg salmon oil (18% Eicosapentaenoic acid (EPA), 12% Docosahexaenoic acid (DHA), Omega-3 fatty acids total 30%), 12 mg Vitamin E

DOPPELHERZ AKTIV OMEGA 3 + VITAMIN E Daily dosage:
Composition

Daily dosage

(= 2 capsules)

% of the
recommended
daily dose

Salmon oil

2000 mg

**

Vitamin E

24 mg a- TE

200

** there is no set daily dose
Energy value:
1 capsule corresponds to 10.4 kcal / 42.7 kJ
DOPPELHERZ AKTIV OMEGA 3 + VITAMIN E Dosage:
Take 2 capsules daily with meals, with plenty of fluids.

Do not chew.
Contraindications:
Not known
Warnings:
· Food supplement
· Do not exceed the recommended dose!
· Do not use as a substitute for a varied diet!
· Keep out of the reach of small children!
---