---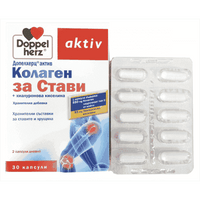 Sale
Doppelhertz Active Collagen for joints
Without stiffness and discomfort, for healthy and flexible joints
Doppleherz Aktiv Collagen for joints Advantages:
- high content of hydrolyzed Collagen type II of natural origin, which is a major component of connective tissue and a building block of joints, cartilage, tendons, bones and skin.
- content of hyaluronic acid - a valuable component of synovial fluid, important for the normal function of articular cartilage.
Doppelhertz Active Collagen for joints is suitable for use in:
-increased physical activity and intense sports
-overweight, leading to accelerated wear of the joints
-maturity and old age due to age-related changes in the joint apparatus.
Doppleherz Aktiv Collagen for joints Composition:
2 capsules contain 1100 mg of collagen hydrolyzate type II, of which 110 mg of hyaluronic acid.
Doppleherz Aktiv Collagen for joints Act:
One of the most important building materials for any joint is collagen.
It is a major component of connective tissue responsible for:
-strength, mobility and elasticity of the joints
-normal bone condition
- normal function of blood vessels and muscles.
- Collagen is also important for maintaining healthy and elastic skin.
The collagen molecule is large and must be hydrolyzed to be absorbed by the body. It is thus broken down into smaller fragments that are used by the body to synthesize its own collagen.
Another important component for both joints and synovial fluid is hyaluronic acid. It is extremely important for the metabolism between them. In addition, it helps hydrate the skin, maintains its turgor and fresh appearance.
A number of clinical studies have shown that the production of collagen and hyaluronic acid decreases with age. The articular cartilage is furrowed and worn. The friction between the joint surfaces increases, which is a prerequisite for inflammation of the joints. The consequences are problems with movement, especially descending and climbing, stiffness, discomfort and increased sensitivity to changes in weather.
Doppleherz Aktiv Collagen for joints Dosage:
2 capsules daily
---