---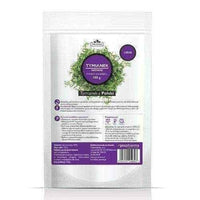 Sale
THYME LEAVES. Aromatic thyme is the best way to enrich the taste of meat, but not only.

It can be prepared as an infusion, which has a beneficial effect on the body. But remember to always choose high quality droughts - Dr. Gaia thyme leaves.
Ingredients:
The leaves of thyme 100%.
Action:
Thyme is also known as thyme or tymian. In Europe, he was popular since ancient times, then it is thanks to Roman soldiers has become a symbol of courage and bravery. Soldiers used for infusion of thyme to the bath, which would help them to gain physical fitness. Currently, thyme is one of the most widely used herbs in the kitchen, and also a popular ingredient in preparations for sore throat. Drinking infusions of thyme is beneficial not only to the respiratory system, but also for digestion and immunity. Thyme leaves Dr. Gaia is a product of the highest quality without any additives.
Function:
Dr Gay thyme leaves recommended for use as an agent with supporting the respiratory system, as well as supporting and digestion resistance.
Additional information:
Keep out of reach of children, at room temperature. Protect from moisture and light. Country of origin of the raw material / production: Poland.
Contraindications:
Do not use in case of hypersensitivity to thyme.
Usage:
Thyme can be added to salads or as a seasoning for hot dishes. Drought is also suitable for brewing. To prepare the infusion should pour 250ml boiling water one tablespoon thyme (about 3g). Cover and infuse for 10-15 minutes. Drink after przecedzeniu. The infusion can be sweetened with honey or lemon rich.
Net weight: 100g.