---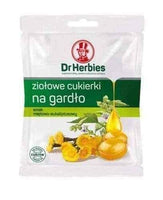 Sale
Dr Herbies' eucalyptus-mint throat candies contain natural herbal extracts of marshmallow root and coltsfoot. In combination with menthol and essential oils, they moisturize and refresh the throat and soothe irritation of the throat mucosa.
Dr Herbies Herbal throat candies mint-eucalyptus Ingredients:
Sweetener - isomalt, marshmallow root extract, eucalyptus oil, menthol, coltsfoot extract, peppermint oil, sweetener - sucralose.
Active ingredients in 1 candy: marshmallow root extract - 7mg, coltsfoot extract - 3.5mg, menthol - 7mg, eucalyptus oil - 7mg, peppermint oil - 3mg.
Dr Herbies Herbal throat candies mint-eucalyptus Action:
The composition of ingredients in Dr Herbies candies supports the upper respiratory tract and contributes to the reduction of discomfort caused by irritation of the throat. Marshmallow root extract soothes irritations and has a soothing and protective effect on the throat and vocal cords thanks to the content of mucous substances that settle on the surface of the mucous membranes of the mouth and throat. Coltsfoot positively affects both the throat and the nasal cavity. Essential oils (mint and eucalyptus) refresh and, thanks to their inhaling properties, facilitate breathing. Menthol works in a similar way, which additionally refreshes and causes a feeling of coolness.
Dr Herbies Herbal throat candies mint-eucalyptus Application:
Dietary supplement Dr. Herbies. Herbal throat candies mint-eucalyptus intended for use as a moisturizer for the throat mucosa. Especially recommended for people staying in air-conditioned or smoky rooms, abusing their voice and people experiencing dry throat and hoarseness.
Additional information:
If the preparation is consumed in excessive amounts, a laxative effect may occur. The product does not contain sugars and dyes. A dietary supplement cannot be used as a substitute for a varied diet and a healthy lifestyle. Keep the product out of the reach of children.
Contraindications:
Do not use in case of hypersensitivity to any component of the supplement and during pregnancy and breastfeeding.
Directions for use:
Recommended daily dose: up to 6 candies. Do not exceed the recommended daily dose.
Net weight: 70g.
---