---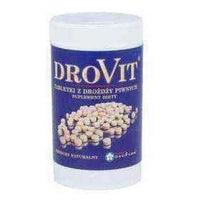 Sale
BREWER'S YEAST TABLETS. Yeast is an excellent source of vitamin B and magnesium. These are the ingredients extremely important for the proper functioning of the human body. Drovit tablets of brewer's yeast to help supplement the deficiency of these substances.
Ingredients:
Yeast (90%), sugar, potato starch, magnesium stearate (anticaking agent).
Content of components in recommended daily dose - 9 tablets: thiamine (vitamin B1) - 0.2 mg (14% RDI), riboflavin (vitamin B2) - 0.05mg (3% RDA), niacin (vitamin PP) - 1,4mg ( 8% RDI), magnesium - 6 mg (2% RDA).
RDA - recommended daily intake.
Action:
A wealth of B vitamins and magnesium, or yeast. Tablets Drovit provide these important components of the body, so support the functioning of the body. A dietary supplement is indicated mainly to people who need support for the nervous system in the states of weakness and mental fatigue. Excellent product also affects the skin, contributing among other things to reduce acne and cellulite. It is also a great vehicle for strengthening hair and nails.
Application:
Dietary supplement Drovit intended to be used as a supplement to your daily diet with magnesium and B vitamins particularly in the application of dieting, when fatigue and weakness, as well as an adjuvant condition of the skin, nails and hair.
Additional information:
Food supplements should not be used as a substitute for a varied diet and a healthy lifestyle. Keep out of reach of children, at room temperature.
Contraindications
not be used in case of hypersensitivity to any component of the supplement.
Usage:
The recommended daily dose for adults: 9-15 tablets. Take 3-5 tablets three times a day, taken after a meal with a small amount of water. Do not exceed recommended servings for consumption during the day.