---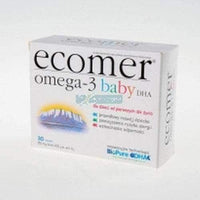 Sale
ECOMER Omega-3 DHA BABY-30capsules.ECOMER OMEGA-3 BABY DHA allergies and asthma

ECOMER Omega-3 DHA BABY - 30 capsules

Indications:
For the dietary management to support the normal development of the child, especially the brain and eyes, reduce the risk of allergies and asthma, enhance immunity.

Features:
The preparation

Ecomer

Omega-3 DHA Baby provides optimal for infants and children daily ration of DHA, which is one of EFAs (essential fatty acids). The administration of DHA is recommended for use in neonates, infants and children. It is a product of the highest quality, thanks to the technology used Biopure DHA TM obtained high purity and bioavailability of DHA. The safety and efficacy of DHA confirmed by studies and clinical recommendations. The use of DHA in appropriate doses is recommended from the first days of life for healthy development.

Composition:
1 capsule contains 50 mg of standardized, purified oil, tuna Biopure TM DHA, vitamin D3, a mixture of tocopherols, glycerol, gelatin

Use:
1 capsule per day

Package:
30 capsules

100% AUTHENTIC.

STRAIGHT FROM THE PHARMACY.
Manufacturer KROTEX PHARM.