---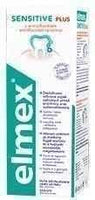 Sale
ELMEX Sensitive 400ml
Elmex Sensitive mouthwash recommended as a supplement to oral hygiene and protection against caries. The preparation belongs to the Sensitive line, which is created for people who are suffering from tooth sensitivity.
Composition of Elmex Sensitive:
Aqua, Propylene Glycol, PEG-40 Hydrogenated Castor Oil, Olaflur, Glycerin, Aroma, Sodium Benzoate, Levulinic Acid, Sodium Levulinate, PVP / Dimethylaminoethylmethacrylate Polycarbamyl Polyglycol Ester, Saccharin, Hydroxyethylcellulose, Sodium Fluoride. Fluorine content: 250ppm.
Elmex Sensitive operation:
People suffering from tooth sensitivity are aware that dental rinses are a great support in oral hygiene. Elmex Sensitive fluid is characterized by exceptional gentleness and a pleasant, delicate taste. The product provides additional protection for dental necks against both hypersensitivity and caries. The fluid contains aminofluoride, which creates a long-lasting protective layer on the tooth surface.
Application:
Elmex Sensitive mouthwash designed for use in the daily hygiene of hypersensitive teeth.
Additional ELMEX Sensitive 400ml information:
Does not contain alcohol and artificial colors. Keep the product out of reach of children at room temperature.
Contraindications:
Do not use in case of hypersensitivity to any component of the mouthwash. Do not use below 6 years of age.
How to use Elmex Sensitive:
Use 10ml of undiluted liquid once. Rinse your mouth for 30 seconds. The liquid should be spat out, it must not be swallowed. Apply morning and evening.
---