---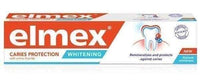 Sale
Comprehensive tooth hygiene is ensured by Elmex whitening toothpaste against caries! It effectively cleans the oral cavity, protects the teeth against decay, remineralises the enamel, and at the same time helps restore the teeth to their natural whiteness.
Composition of Elmex toothpaste against decay whitening:
Aqua, Hydrated Silica, Sorbitol, Hydroxyethylcellulose, Olaflur, Aroma, Cocamidopropyl Betaine, Saccharin, Limonene, CI 77891. Contains: olaflur (amine fluoride), 1400 ppm F.
Action of Elmex toothpaste against caries whitening:
The Elmex whitening anti-caries toothpaste is a product with fluoride. It contributes to the remineralization of damaged enamel fragments, thus preventing caries. The preparation creates a protective calcium-fluorine layer around the teeth. The unique formula allows you to reach hard-to-reach places. The paste has a whitening effect, eliminates discoloration, which allows the enamel to be restored its natural whiteness.
Application:
Elmex toothpaste against caries whitening intended for daily oral hygiene. Recommended for teeth that require whitening.

Additional information:
Store the product out of reach of children at room temperature. It is recommended to protect against the effects of moisture and light. The effectiveness of the paste has been clinically proven.
Contraindications:
Do not use in case of hypersensitivity to any component of the product. Do not use in children under 7 years of age.
How to use the Elmex anti-caries whitening toothpaste:
Use 2-3 times a day. Teeth should be brushed for at least 2 minutes.
---