---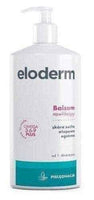 Sale
Eloderm Moisturizing Balm 400ml. 
ELODERM BODY LOTION

Emollient for daily care of dry, atopic, itchy skin prone to eczema and allergies. Provides appropriate skin care for atopic dermatitis, both during remission and intensification of skin lesions. Thanks to the Omega 3-6-9 PLUS complex, it effectively nourishes the skin and reduces its sensitivity.

ACTION

Research confirms that when applied systematically, the balm reduces dry skin symptoms such as tension, itching, peeling and roughness, and prevents recurrence of dryness. It helps protect the skin against excessive water loss and factors that may worsen its condition (detergents, chlorine, wind, frost), preventing abrasions and chafing.
Research confirms that after just one use the preparation
• relieves the feeling of itching and prevents scratching
• moisturizes the skin for a long time
• soothes irritations and redness
• gives the skin a feeling of soft and smooth
• makes the skin look healthy

ACTIVE INGREDIENTS

- OMEGA 3-6-9 Complex PLUS – a complex of 7 oils: sunflower, coconut, linseed, avocado, argan, macadamia and olive with strong moisturizing, nourishing and skin regenerating properties.
- Allantoin and D- Panthenol (provitamin B5) - have a soothing, regenerating and soothing effect on the skin
- Shea Butter - has regenerating properties
- Vitamin E - lubricates and prevents irritation
- Caprylic-capric triglyceride - emollient that reduces skin itching
- Liquid crystal emulsifier - thanks to lamellar structure (similar to the structure of skin) ensures long-lasting skin moisturizing effect.