---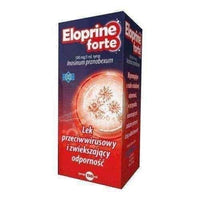 Sale
Eloprine forte syrup 500mg / 5ml 150ml, antiviral medicines
Antiviral medicines. Eloprine Forte is a medicinal product in the form of delicious syrup with strawberry flavor. Inosine Pranobex it contains, as the active ingredient having antiviral properties and stimulating effect on the immune system.
Eloprine forte syrup antiviral medicines Composition:

1 ml of syrup contains 100 mg Inosine Pranobex: a complex containing inosine, and 4-2-acetamidobenzoesan hydroksypropylodimetyloamoniowy in a molar ratio of 1: 3. 5ml (one scoop) contains inosine Pranobex - 500 mg and excipients: Methyl parahydroxybenzoate (E 218) propyl parahydroxybenzoate (E 216), sucrose, citric acid monohydrate, sodium hydroxide, liquid strawberry flavor, purified water.
Eloprine forte syrup antiviral medicines Action:

The active ingredient Eloprine Forte belongs to a group of antiviral medicines, it is a synthetic purine derivative. The antiviral activity is one of the applications include immunostimulatory component, which stimulates the immune system.
Eloprine forte syrup antiviral medicines Use:

The drug Eloprine forte syrup 500mg / 5ml indicated for use as an auxiliary immunodeficiency and recurrent infections of the upper respiratory tract. Designed for use in adults and in children aged 1 year old.
Additional information:
Keep out of reach of children, at room temperature.
Contraindications:
Do not use in case of hypersensitivity to the active substance or other substances used in medicine. Do not use in cases currently occurring attack of gout or increased uric acid in the blood. Do not use in children under 1 year of age.
Adverse reactions:
While taking may experience side effects. The only constantly occurring is increased uric acid levels in the urine and serum, but a few days after discontinuation return it to normal. Common side effects: gastrointestinal - nausea with or without vomiting, epigastric pain; disorders of the liver and biliary tract - increase in transaminases, alkaline phosphatase or blood urea nitrogen; disorders of the skin and subcutaneous tissue - itching, rash; disorders of the nervous system - headache, dizziness, fatigue, malaise; musculoskeletal and connective tissue disorders - pain in the joints. Uncommon side effects: gastrointestinal disorders - diarrhea, constipation; nervous system disorders: nervousness, drowsiness or insomnia; disorders of kidney and urinary tract - polyuria.
Dosage Eloprine forte syrup, antiviral medicines:

For oral use. Doses to measure the enclosed measuring cup. The doctor determines the dose, taking into account the body weight of the patient and the severity of the disease. The daily dose should be divided into equal portions and administered several times a day.Treatment generally should last 5-14 days. It is recommended to continue the administration of the drug for 1-2 days after symptoms have resolved. Adults, elderly: the recommended daily dose is 50 mg / kg body weight (0.5 ml per kg of body weight per day), or 3G - 30ml syrup daily. The daily dose administered 3-4 times daily. The maximum daily dose is 4g - 40ml syrup daily. Children over 1 year of age: The recommended daily dose of 50 mg / kg of body weight, or syrup 0.5ml per kg of body weight, the dose administered in equal portions over a 3-4 day. The dosing regimen according to body weight: 10-14kg: 3 x 2.5 ml, 3 x 2,5-3,5ml 15-20kg, 21-30kg 3 x 3,5-5ml, 31-40kg 3 x 5-7,5ml , 3 x 41-50 kg 7,5-9ml.
---