---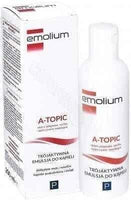 Sale
EMOLIUM A-Topic three-active bath emulsion is a dermocosmetic that lubricates the skin and soothes itching. Anesthetizes pain and regenerates damaged epidermis and prevents the appearance of bacterial infections.
Ingredients EMOLIUM A-Topic Three-active bath emulsion:
Mineral Oil (Liquid Paraffin), Isopropyl, Palmitate, Caprylic / capric Triglyceryde, Laureth-9, PEG-40 Sorbitan Peroleate, C12-13 Pareth-3, Macadamia Ternifolia Oil, Spent Grain Wax, Persea Gratissima (Avocado) Oil, Corn ( Zea Mais) Oil, butyrospermum parksi (Shea Butter), Phenethyl Alcohol, Caprylyl Glycol, Undecyl Alcohol, PEG-8, Tocopherol, Ascorbic Acid, Ascorbyl Palmitate, Citric Acid.
Action EMOLIUM A-Topic Three-active bath emulsion:
The substances contained in the emulsion help cleanse the skin and relieve dryness and itching of the skin. Stimu-Tex (2%) and Polidocanol (5%) have antipruritic properties.
Alchem ​​(0.5%) reduces the number of bacteria found on the skin and limits the likelihood of subsequent bacterial infections. Polidocanol additionally anesthetizes and alleviates pain. Caprylic and capric triglycerides (7%), Macadamia oil (3%), Shea butter (1%), Avocado oil (2%), Paraffin oil (61.2%) increase the level of hydration and oiling of the skin, soften and remove feeling rough. They protect against water loss and soothe irritation.
Indications:
The emulsion is recommended for use when bathing in people struggling with a feeling of dryness and itching of the skin, which accompany e.g. fish scales, psoriasis, eczema and flatworm.
How to use EMOLIUM A-Topic Three-active bath emulsion:
Apply externally. Pour 1 scoop of emulsion into the bath water and use the bath for 15 minutes.