---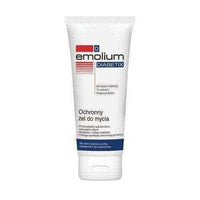 Sale
The skin of diabetics is particularly demanding, so be sure to wash the protective gel, body wash Emolium Diabetix. Gel moisturizes, nourishes and restores proper pH and strengthens the natural protective layer of the skin.
Active ingredients:
Complex Hydra 10, Vitamins A, E, C, B1, B2, B5, B6, B12 and PP, benfotiamine, probiotic Biolin.
Action:
Mild, hypoallergenic body wash Emolium Diabetix is a product that not only cleanses the skin but also nourishes. 10 complex vitamins (A, E, C, B1, B2, B5, B6, B12 and PP), improves skin condition, the complex Hydra 10 provides deep hydration, including due to the presence of urea and an extract of Aloe Vera. Benfotiamine contributes to the nourishment of the skin, so that it is smooth and silky to the touch. The gel protects the skin, as it allows you to restore and maintain the proper pH. The probiotic present in the composition enhances the protective layer of the skin and soothes irritation.
Application:
Emolium Diabetix protective body wash for daily skin care. It is suitable for use by diabetics.
Usage:
Gently wash the skin of the whole body. Rinse the gel.
---