---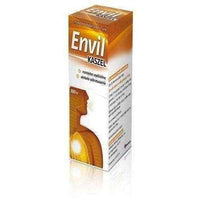 Sale
ENVIL Cough Syrup 30mg / 5ml 100ml 12+ natural cough remedies
ENVIL COUGH is a preparation in the form of a syrup, whose active ingredient is ambroxol hydrochloride showing properties expectorants and mucolytics (thinning surging secretions).
ENVIL Cough Syrup, 12+ natural cough remedies Composition:
5 ml of syrup contains 30 mg of ambroxol hydrochloride and excipients: hydroxyethyl cellulose, sorbitol liquid, non-crystallizing, gliceorl, propylene glycol, sodium saccharin, benzoic acid, tutti frutti flavor, purified water.
Action:
Syrup acting on the basis of ambroxol hydrochloride is perfect for the time of treatment of diseases of respiratory disorders associated with disturbances of mucus. The product is mainly characterized by properties wykrztuśnymi and mukolitycznymi. Increases the amount of secretions and improved its transport. It facilitates expectoration.
ENVIL Cough Syrup, 12+ natural cough remedies Indications:
The product should be taken for acute and long-term respiratory diseases accompanied by abnormal production of mucus and inconvenience of their transport. (eg. emphysema, bronchitis, asthma, cystic fibrosis, laryngitis).
Dosage:
For oral use. For adults and adolescents over 12 years of age to use 5 ml of the syrup x 3/24 for the first 2-3 days and then 5 ml x 2 / 24h.Apply in the morning and early afternoon.
---