---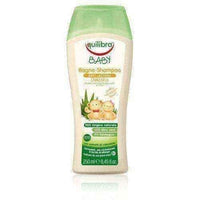 Sale
EQUILIBRA. Appreciate a lot of comfort and multifunctional cosmetics. Shampoo Hair & Body Baby EQUILIBRE this type of preparation 2in1 dosknale Clearance, and at the same time is safe for the skin, which has important physiological pH.
Active ingredients:
Glycerin plant, aloe vera (20%), marigold extract.
Action:
If the baby's skin, so be careful. Should be selected as gentle as possible cosmetics. A great option preparations are also multifunctional. Shampoo Hair & Body Baby EQUILIBRE has a physiological pH and a mild cleaning substances that do not cause drying of the skin. Effective cleansing goes hand in hand with proper skin care. The formula consists of up to 98% of the ingredients of natural origin, in addition, was selected in accordance with the principle of minimizing the risk of allergies. The composition of the shampoo was established among moisturizing and protective aloe vera, marigold extract for soothing and vegetable glycerine. Cosmetic and leaves the skin silky smooth and hair soft and shiny. The product is delicately perfumed.
Application:
EQUILIBRE Baby shampoo for hair and body recommended for the daily care of the delicate and sensitive baby skin and hair. Suitable for children, babies, infants (0+).
Additional information:
Keep out of reach of children, at room temperature. The composition of no SLES, SLS, parabens, allergens, dyes, petroleum jelly. The product tested for the presence of nickel, clinically and dermatologically tested.
Contraindications
not be used in case of hypersensitivity to any component of the cosmetic.
Usage:
For external use. On the moistened skin and hair must be spread a little cosmetic diluted in a little lukewarm water. Gently lather, wash skin and hair. Rinse thoroughly with warm water.