---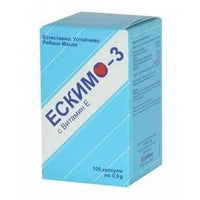 Sale
ESKIMO 3 natural fish oil Act:
Eskimos have been found to consume large amounts of fish and many have healthy hearts, good blood circulation, healthy joints and skin. According to nutrition researchers, this is due to the consumption of omega-3 fatty acids, which are almost absent from the food of the Western world. Eskimo-3 is a unique sustainable fish oil supplement developed by Swedish researchers to absorb elements from the Eskimo diet.
Eskimo-3 contains the optimal concentration of the important Omega-3 fatty acids EPA and DHA and is enriched with antioxidants in a scientifically calculated formula and concentration, which is of great importance.

ESKIMO 3 contributes to the health of the heart and skin, as well as the elasticity of blood vessels. It has a positive effect on the joints. Maintains prostaglandin levels - hormone-like substances and has an anti-inflammatory effect.
They strengthen the immune system.
Prolonged use improves the condition of the skin in people with psoriasis and dermatitis.
ESKIMO 3 is a good alternative for people with metabolic disorders, for people with high cholesterol or high levels of triglycerides, as it lowers bad and raises good cholesterol, reduces the levels of fibrinogen responsible for the formation of blood clots. Eskimo -3 significantly reduces the likelihood of arrhythmia.
ESKIMO 3 is derived from deep-sea marine fish.
In cold water, their body fat remains elastic due to its high content of EPA and DHA. In humans, the omega-3 fatty acid contained in cell walls also helps cells maintain their elasticity, including joint flexibility, skin elasticity and blood vessels.
ESKIMO 3 contributes to good blood circulation, which is an important part of heart care.
ESKIMO 3 also improves joint flexibility and skin health.
ESKIMO 3 is manufactured according to pharmaceutical standards and has a guaranteed high quality.
ESKIMO 3 natural fish oil Composition:
Nutritional composition in 3 capsules:
Omega-3 fatty acids 500 mg
of which:
EPA (eicosapanthenic acid) 240 mg
DHA (docosahexaenoic acid) 160 mg
Vitamin E 5 mg
PDDD 45% *
SDA - recommended daily allowable dose
It also contains gelatin, glycerin, lecithin, ascorbic acid
and flavor: lemon
ESKIMO 3 natural fish oil Dosage:
3 capsules 1 to 3 times daily with meals.
Food supplement.
Keep out of reach of small children.
Do not exceed the recommended daily dose.
The product is not a substitute for a varied diet.