---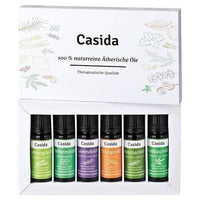 Sale
ESSENTIAL OILS GIFT Set, Natural Top 6 Aromatherapy
ESSENTIAL OILS GIFT Set, all natural Top 6 Aromatherapy
pack size:60ml Dosage form:oil, essential

• Set consisting of the six most popular essential oils
• 100% natural oils of therapeutic quality
• For individual aroma mixtures, applicable eg in nebulizers, fragrance lamps or body care products and bath additives
• Ideal as a gift and for use in business premises or at home
• High-quality violet glass bottles protect the valuable oils from UV exposure - for longer stability and effectiveness of the essential oils
• Vegan and animal-free
ESSENTIAL OILS GIFT Set:


Orange oil and lemongrass oil strengthen the psyche and have a mood-enhancing effect.

Peppermint oil cools and refreshes headaches and cold symptoms.

Invigorating rosemary oil promotes concentration and creativity and is a valuable support during the cooler season.

Lavender oil calms in stressful times and accompanies you to a harmonious and restful sleep.

Tea tree oil supports the immune system and promotes healthy self-confidence.