---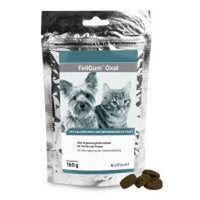 Sale
FeliGum
®
Oxal
diet supplement for cats and small dogs
To reduce the formation of oxalate stones
Potassium citrate alkalizes the urine. The urine pH should not be below 6.2.
The glucosaminoglucans (GAGs) glucosamine and chondroitin supplement the protective layer of the bladder wall, which can be defective in the case of GAG deficiency and irritation from crystals.
Vitamin B6 prevents increased oxalate formation caused by a vitamin B6 deficiency.
FeliGum
®
Oxal also contains nettle extract and field horsetail tincture.
FeliGum
®
Oxal has urinary alkalizing properties and thus reduces the recurrence of oxalate stones. At the same time, the volume of urine is increased. FeliGum
®
Oxal supplements food with substances that must be consumed in sufficient quantities for optimal protection of the urinary tract mucous membranes.
FELIGUM Oxal KTA for small dogs, cats Recommended feeding time:
up to 6 months.
It is recommended that you seek the advice of a veterinarian prior to feeding.
Offer water for free consumption.
FeliGum
®
Oxal should be administered together with or immediately after feeding, if possible.
FELIGUM Oxal KTA for small dogs, cats Notes:
Do not store above 25 ° C and in a dry place. Reseal the bag tightly after use.
One chewing drop contains 300 mg potassium citrate.
Do not exceed the feeding recommendation. Do not use in animals with hyperkalemia.
---