---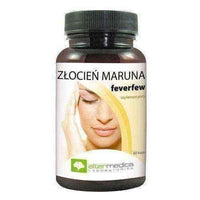 Sale
Feverfew Feverfew, feverfew migraine (maruna) by parthenolide content soothes the body and reduces nagging migraine headache.

Preparation supports the functioning of the nervous system.
Composition:
leaf extract of pyrethrum murany standardized on the content of the substance czynnej- parthenolide; riboflavin, pantothenic acid, additional substances: microcrystalline cellulose, magnesium stearate, silicon dioxide, hydroxypropyl methylcellulose.
1 capsule contains: Extract of pyrethrum Maruny - 4 mg, including parthenolide (6%) - 0.24 mg vitamin B2 1.4 mg (100% RDA *), Vitamin B5 6 mg (100% RDA *)
Action:
Dietary supplement is characterized by a natural, unique composition. Leaf maruna pyrethrum (Tanacetum parthenium) contains parthenolide considered the primary component for determining biological activity of the extract. It contributes to alleviating migraine pain, menstrual cramps, arthritis, rheumatic disorders and gastrointestinal stomach. Vitamin B2 supports the proper operation of the nervous system. Vitamin B5 has a soothing effect on the fatigue and weariness. Conducive to maintaining an adequate level of intellectual ability.
Contraindications:
- Hypersensitivity to product components
Indications:
It is recommended to use the preparation in case of pain, especially in the form of migraine. It indicated also for dental pain, menstrual cramps, arthritic or rheumatic.
Usage:
For oral use. It is recommended to use a dose of 1 kaps./24h.