---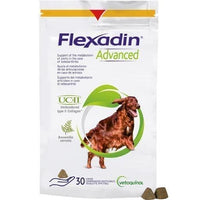 Sale
Flexadin
®
Advanced Chew
Flexadin
®
Advanced is a diet supplementary feed for dogs to support the joint metabolism in osteoarthritis.
The unique combination of UC.II
®
+ Boswellia serrata * Flexadin
®
Advanced contains UC-II
®
(non-denatured collagen type II) as well as the herbal ingredient Boswellia serrata (* Indian frankincense). The product also contains Omega-3 fatty acids to support healthy joints and vitamin E, which is known for its anti-oxidative properties.
The tasty chewy bites allow easy administration once a day - regardless of the size and weight of the dog.
FLEXADIN Advanced Chews Dogs Composition:
oat flour, rye feed meal, brewer's yeast, glycerine, chicken liver powder , linseed oil (source of omega-3), UC-II
®
chicken cartilage powder (contains potassium chloride: 0.44%, total amount of collagen: 0.37% (with patented native collagen type II : 0.045%)) 1.49%, fish oil (source of EPA), pectin, sucrose, maltodextrin, calcium sulfate dihydrate, polyethylene glycol.
FLEXADIN Advanced Chews Dogs Additives / kg:
emulsifiers, stabilizers, thickeners and gelling agents: acacia gum (gum arabic) E414 50000 mg; Sodium Alginate (1d401) 250 mg. Flavor: Boswellia serrata extract 63,000 mg Vitamins, provitamins and chemically defined substances with a similar effect: Vitamin E / all rac-alpha tocopheryl acetate (3a700) 7,000 IU; Preservatives; Antioxidants; Flavoring substances.
FLEXADIN Advanced Chews Dogs Analytical components:
moisture 20%, crude protein 14%, crude oils and fats 14%, crude ash 3%, crude fiber 1.5%. Per Chew: total amount of omega-3 fatty acids 84 mg, total amount eicosapentaenoic acid (EPA) 9.3 mg, total amount vitamin E 22.5 IU. Net weight per Chew: 3
FLEXADIN Advanced Chews Dogs Feeding recommendation:
Dogs of any weight receive 1 Chew daily. Initially up to 3 months. It is recommended that you seek the advice of a veterinarian before feeding, extending the duration of the feeding, or exceeding the recommended amount. The Chews can be administered directly or mixed with food. The product should be administered according to the feeding recommendations.
Contains: UC-II
®
(40mg / Chew), with patented native type II collagen. Type II collagen is an important part of cartilage. Omega-3 fatty acids and vitamin E, which is known for its anti-oxidative properties. The combination of these ingredients supports joint health. Water should always be available in sufficient quantities.
FLEXADIN Advanced Chews Dogs Storage conditions:
Store in a cool and dry place. Store tightly closed, below 25 ° C and protected from light. For animal use only. Keep out of the reach of children.
---