---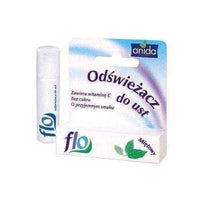 Sale
Mouth freshener., mouth refresher. FLO Mint Mouthwash is a refreshing moisturizer.

Demonstrates antibacterial and anti-microbial properties that cause odors from the mouth.
Composition:
Aqua, Alcohol, Parfum, Hydrogenated Castor Oil, Chlorhexidine Digluconate, Flavor E-9--, Ascorbic Acid, Eugenol, Linalool, Limonene, Citral, Citronellol.
Action:
The preparation is comfortable in the use of a mouth freshener. It is characterized by a small package and an easy to use sprayer. It is very handy and perfectly fits in a purse or even in a tight pocket. It has an intense mint flavor that refreshes the breath a long time. Contains ingredients with bacteriostatic and bactericidal properties, therefore, it effectively prevents the propagation of microorganisms and protects against the development of unpleasant odors from the mouth. It is well tolerated by mucosa and skin. It is a source of beneficial vitamin C. It contains no sugar.
Contraindications:
- Sensitization to product ingredients
Indications: The
product is recommended to be used to refresh the breath and control the bacteria. Recommended especially for travel and work.
Usage:
Apply locally. It is recommended to spray the freshener in the mouth, if necessary.
---