---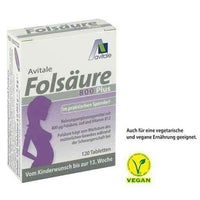 Sale
Avital Folic Acid 800 Plus Tablets 120 pcs
Dietary supplement with 800μg folic acid, 150μg iodine and 10μg vitamin B 12
From the desire to have children up to the 13th week.
Folic acid supports the growth of maternal tissue and makes an important contribution to cell division and thus to cell regeneration.
If you want to have children or if you are pregnant, a good supply of folic acid makes a decisive contribution to the development of the embryonic neural tube. This is the name given to the first stage of development of the central nervous system, which arises three weeks after conception and from which the brain and spinal cord later develop.
Therefore, women who want to have children are advised to start optimizing their folic acid balance a few weeks before a possible conception. If you are already pregnant, the folic acid supply should be ensured from the earliest possible point in time after the pregnancy is noticed.
From the desire to have children up to the 13th week, the intake of Avitale Folic Acid 800 Plus with 800μg folic acid is recommended, from the 13th week of pregnancy and during breastfeeding Avitale Folic Acid 400 Plus tablets with 400 μg folic acid are recommended.
Vitamin B 12 activates folic acid and is required by the body to convert folic acid into a usable form.
FOLIC ACID (FOLSÄURE) 800 Plus B12 + Iodine Ingredients:
Bulking agent: microcrystalline cellulose, vitamin B12 (cobalamin), folic acid, anti-caking agent: magnesium salts of fatty acids and silicon dioxide, potassium iodate (iodine)
FOLIC ACID (FOLSÄURE) 800 Plus B12 + Iodine Content per capsule:
800 mcg folic acid
150mcg iodine (potassium iodate)
10mcg vitamin B12
content per sales unit: 120 capsules ⁄ 7.8g
Please store in a dry place and protect from heat.
Please consult your family doctor or gynecologist before taking Avitale Folic Acid Plus tablets if you suffer from a thyroid disorder or disease.
FOLIC ACID (FOLSÄURE) 800 Plus B12 + Iodine Recommended:
intake: swallow 1 tablet daily with a meal with sufficient liquid.
The recommended daily intake must not be exceeded.
Dietary supplements are no substitute for a balanced and varied diet and a healthy lifestyle.
Please keep out of the reach of small children.
More quality with certainty
Product safety and raw material quality are our top priorities. Experts regularly make extensive investigations to ensure that the excellent level of our range remains constant. In order to maintain this high, constant standard, we only work with a drug manufacturer certified in Germany.
Avitale products - more joy in life.
Avitale by Mikro – Shop Handels GmbH
Carl – Zeiss – Strasse 8
25451 Quickborn
---