---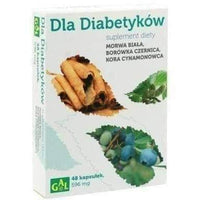 Sale
For diabetics white mulberry, blueberry, cinnamon bark is a product that contributes to normalize blood sugar levels. Shows antioxidant activity.
Composition:
Capsule: powdered bilberry fruit extract, cinnamon bark extract, white mulberry leaf. Capsule shell: gelatin.
6 capsule contains powdered bilberry fruit of 1140 mg extract of cinnamon bark 1140 mg extract from the leaves of the white mulberry 720 mg
Action:
Dietary supplement is characterized by complex natural composition.It contains blueberries blueberry, which is conducive to regulate metabolism of sugars, fats and proteins. It is composed of materials with properties similar to insulin. In addition, it exhibits antioxidant properties and protects against free radicals and helps maintain the proper function of the retina. Cinnamon is responsible for normalizing blood sugar levels. White mulberry regulates carbohydrate metabolism in the body and reduces blood glucose.
Contraindications:
- Hypersensitivity to the active components of the preparation
- pregnancy and lactation
Indications:
It is recommended to use the product in adults in order to normalize blood sugar levels and speed up the metabolism of carbohydrates, fats and proteins. Recommended for diabetics.
How to use:
Apply orally. It is recommended that a dose of 6 capsules. / 24. Use in adults.
---