---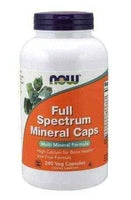 Sale
The Now Foods Full Spectrum Minerals dietary supplement contains a complex of minerals (zinc, selenium, calcium and magnesium) and a portion of vitamin D. Formula without iron. The preparation is recommended as a support for the proper functioning of the body.
Full Spectrum Minerals ingredients:
Calcium carbonate, magnesium oxide, potassium iodide, magnesium citrate, potassium chloride, zinc bisglycinate, copper diglycinate, manganese bisglycinate, L-selenomethionine, chromium picolinate, sodium molybdate, cholecalciferol, rice flour (filler), vegetable magnesium salts fatty acids (anti-caking agent), gelatin (capsule). Information on allergens: does not contain: wheat, gluten, soy, milk, eggs, fish, crustaceans.
The content of ingredients in one capsule:vitamin D - 5mcg (200IU; 200% RWS), calcium - 125mg (32% RWS), iodine - 56.3mcg (75% RWS), magnesium - 125mg (66% RWS), zinc - 3.75mg (75% RWS) ), selenium - 25mcg (90% RWS), copper - 0.5mg (100% RWS), manganese - 1.3 mg (130% RWS), chromium - 50mcg (250% RWS), molybdenum - 25mcg (100% RWS) , potassium - 25 mg (2.5% RWS).
NRV - nutrient reference value.
Operation of Full Spectrum Minerals:
A set of the most important minerals that are needed to maintain the proper functioning of the body. The Full Spectrum Minerals dietary supplement contains, among others, zinc, which supports the maintenance of the proper functioning of the immune system, and calcium, which supports the maintenance of healthy bones and teeth. The advantage of the preparation is the use of calcium and magnesium in the proportion of 1: 1. The preparation does not contain iron.
Application:
Full Spectrum Minerals dietary supplement intended for use as a supplement to the daily diet of adults with a mineral and vitamin D.

Additional information:
A dietary supplement cannot be used as a substitute, i.e. a replacement for a varied diet. Maintaining a balanced diet and a healthy lifestyle is very important. Store the product out of reach of children at room temperature. It is recommended to protect against the effects of moisture and light. All raw materials included in the powder formulation are "GE-free" (they have not been genetically engineered) and have not been subjected to high-energy treatment.
Contraindications:
Do not use in case of hypersensitivity to any component of the dietary supplement.
How to use Full Spectrum Minerals capsules:
Recommended daily dose for adults: two capsules. Take with a meal. Do not exceed recommended servings for consumption during the day.
Net weight: 298g.
---