---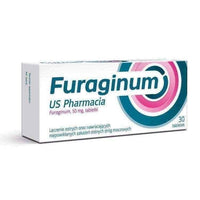 Sale
Furaginum US Pharmacia 50mg x 30 tablets
Furaginum. Lower urinary tract infections may have very unpleasant behavior. Their treatment is recommended to use furagine, the active substance being a nitrofurane derivative. We find it medicament Furaginum US Pharmacia 50mg (Furagina).
Furaginum US Pharmacia Composition:

Each tablet contains: active ingredient: 50 mg furaginy (Furaginum) and the excipients: lactose monohydrate, maize starch, sucrose, polysorbate 80 and stearic acid.
Furaginum US Pharmacia Action:

Furagina contained in the medicament Furaginum US Pharmacia is an active substance which limits the growth of bacteria. Its bacteriostatic activity includes both Gram-positive and Gram-negative bacteria, which are responsible for the development of lower urinary tract infections.
Furaginum US Pharmacia Application:

The medicinal product Furaginum US Pharmacia 50mg indicated for use in the treatment of recurrent acute or uncomplicated, lower urinary tract.
Additional Furaginum US Pharmacia information:
Keep out of reach of children, at room temperature. 18,8mg contains lactose monohydrate and 10 mg sucrose.
Contraindications:
Do not use if hypersensitivity to any component of the medication and nitrofuran derivatives. Do not use under the age of 15, in the first trimester of pregnancy, as well as 38 weeks of pregnancy, during childbirth. Do not apply in the case of renal failure diagnosed polyneuropathy (eg. Diabetes), deficiency of glucose-6-phosphate.
Adverse reactions:
In use, may experience side effects: Common: nausea, flatulence, headaches. Uncommon: cyanosis, megaloblastic anemia or hemolytic anemia; dizziness, drowsiness, visual disturbances, peripheral nerve (including acute or irreversible course, especially in patients with renal failure, anemia, diabetes, electrolyte disturbances, vitamin B); hypersensitivity reactions on the respiratory system; constipation, diarrhea, dyspepsia, abdominal pain, vomiting, inflammation of the salivary glands, pancreatitis, pseudomembranous colitis; alopecia, severe skin reactions extending from the peeling or blistering (exfoliative dermatitis, erythema multiforme, Stevens-Johnson syndrome); fever, chills, malaise, microbial infections resistant to furaginę; pruritus, urticaria, anaphylactic reactions (acute allergic reactions local or systemic), angioneurotic edema, rash; the symptoms of drug-induced hepatitis, cholestatic jaundice, hepatic necrosis parenchyma.
Dosage Furaginum US Pharmacia:
Use as directed on the package leaflet. Taken orally while eating a meal that contains protein, because it increases the bioavailability of nitrofuran derivatives. Adults, children over 15 years: the first day of drug: use two tablets (100mg) four times daily in the following days to use two tablets (100 mg) three times a day. Preparation taken for 7-8 days. If necessary, you can repeat the treatment after a 10-5 days.