---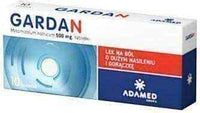 Sale
metamizole sodium, Gardan 500mg x 10 tablets
The indication for the use of Gardan 500mg is severe pain and fever.

As an active substance, the medicinal product contains metamizole sodium.

The preparation is only for people over 18 years of age.
Composition Gardan 500mg, metamizole sodium:
Active substance: metamizole sodium. One tablet contains 500 mg metamizole sodium and other ingredients: wheat starch, microcrystalline cellulose (type 101), povidone K25, talc, magnesium stearate.
metamizole sodium, Gardan 500mg action:
Metamizole sodium used in the drug is a derivative of pyrazolone, has analgesic and antipyretic effects, as well as a weak spasmolytic effect. The medicinal product Gardan 500mg is indicated for severe pain and fever.
Application:
The medicinal product Gardan 500mg indicated for use in adults in the short-term treatment of pain of various etiologies of high severity, as well as fever. The drug is indicated for use when other drugs are ineffective or there are contraindications to their use.
Additional information: The product should be kept out of reach of children at room temperature. The medicine contains wheat starch, and may therefore contain gluten in trace amounts. It is believed, however, that it can be taken by people with celiac disease.
Contraindications:
Do not use in case of hypersensitivity to any component of the drug, metamizole sodium or other pyrazolone derivatives. Do not use in the case of: asthma caused or exacerbated by nonsteroidal anti-inflammatory drugs, hypersensitivity reaction to any nonsteroidal anti-inflammatory drug or analgesic (e.g. angioedema, urticaria, rhinitis), acute hepatic porphyria, congenital deficiency of the enzyme glucose-6 , severe renal and / or hepatic insufficiency, hematological diseases (e.g. aplastic anemia, agranulocytosis, leukopenia). Do not drink alcohol while taking Gardan 500mg. Do not use below 18 years of age, do not use in women during pregnancy and lactation.
Side effects:
Some people may get side effects while taking this medicine. Blood and lymphatic system disorders: leukopenia (rare), agranulocytosis, thrombocytopenia, hemolytic anemia, aplastic anemia (very rare). The risk of developing agranulocytosis is increased in patients taking the medicine for more than a week.
Dosage of Gardan 500mg tablets, metamizole sodium:
Use orally. The recommended dose for adults is 250mg-500mg 2-3 times a day. The dose should be adjusted according to the severity of the pain / temperature rise as well as the individual sensitivity to metamizole. The maximum single dose is 1g (two tablets), the maximum daily dose is 3g (6 tablets). The tablet is recommended to be taken after eating a meal with sufficient water. In people with impaired renal or liver function it is recommended to reduce the dose by half. The tablet can be divided in half. The drug should not be used for more than 3-5 days.
Gardan 500mg, metamizole sodium
---