---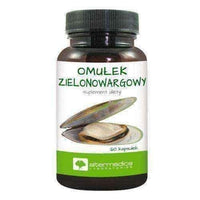 Sale
Green lip mussel, green lipped mussel extract. Natural support for bones and joints are mussel extract zielonowargowego!

This extract can be found in unusual dietary supplement in capsule form, green lip mussel brand Altermedica.
Ingredients:
extract from the mussel zielonowargowego (Green Lipped Mussel) Perna Canaliculus 4: 1, bulking cellulose, anti-caking agents: E470b, E551, capsule gelatin.
Content of components in recommended daily dose (two capsules) extract from the mussel zielonowargowego - 600mg.
Action:
Ponds with age in need of support. The balanced diet is one, but it is worth to support it by using a suitable diet supplement which comprises supporting a component functioning of joints and bones. Zielonowargowego mussel extract, or a naturally occurring mussel in the area of New Zealand appropriate conditioner for both bones and joints. In addition, the extract has anti-inflammatory properties. The use of a dietary supplement is recommended as a daily prevention of arthritis, as well as aid for people affected by pain, swelling of joints and arthritis.
Use:
Food supplement green lip mussel intended for use as a support of joints and bones. Preparation for adults.
Additional information:
Food supplements should not be used as a substitute for a varied diet and a healthy lifestyle. Protect from moisture, light and heat sources. Keep out of reach of children, at room temperature. Starting supplementation in pregnant women and in women during lactation requires a medical consultation.
Contraindications
not be used in case of hypersensitivity to any component of the supplement.
Usage:
The recommended daily dose: 2 capsules. Do not exceed recommended servings for consumption during the day.