---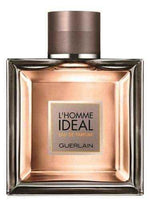 Sale
Guerlain L'Homme Ideal Eau de Parfum 50ml Spray.
The ideal man is a myth. But with L'Homme Idéal Eau de Parfum, Guerlain has made his fragrance a reality.
The ideal Eau de Parfum? One that blends captivating almond with a seductive warm vanilla tincture and mysterious leather. A woody oriental combining three ingredients and three accords to boost your powers of seduction and awaken the ideal lover within you.
The ideal bottle? Masculine, luxurious and elegant. A square, faceted bottle with clean lines and unique taupe sides in a lacquered matte finish that would highlight the intensity of the fragrance. A bright– yet seductive– orange label. A heavy and decidedly masculine cap with gulloché detail borrowed from the world of watch-making.
50ml
Guerlain Perfumer, House founded in Paris in 1828.​
​
A heritage of creative audacity and savoir-faire.​
​
House Perfumer Thierry Wasser represents the fifth generation of Guerlain perfumers. He travels the world in search of the most precious raw materials to compose audacious fragrance harmonies.​
​
Makeup maestro Olivier Echaudemaison has the unique talent to create must-have products that reveal each woman's beauty and complement her personality.​
​
Dr. Frédéric Bonté leads Guerlain's scientific research, focusing on the best of nature to develop high-performance formulas.​
​
For almost two centuries, Guerlain has been inspired by beauty, excited by the magic of a pencil stroke or the boldness of a new creation. La Petite Robe Noire, L'Homme Idéal, Terracotta, Météorites, Orchidée Impériale and Abeille Royale are all elegant testimony to Guerlain's passion for beauty.​
​
For almost two centuries, Guerlain products have been made in France, perpetuating rare expertise and savoir-faire. In 2015, Guerlain opened La Ruche ("Beehive"), a new production site for Makeup and Skincare. Combining advanced technology with time-honored traditional craftsmanship, this new facility affirms Guerlain's commitment to French industry and to social and environmental responsibility.​
​
Each day, Guerlain makes women, all women, more beautiful.
Perfumes and aftershaves sorry UK only. We will ship only in UK territory. Allowed for UK addresses only* but are prohibited in Business Response, Freepost™ and all variants of Packetpost™ and Packetsort™.