---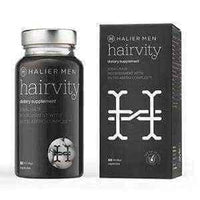 Sale
Hairvity men. Hair Supplement Men's Dietary Supplement is a composition of ingredients that have been tailored to the needs of the male body and support the maintenance of good condition of the skin and hair.

We can find, among others.

Pineapple fruit extract and biotin.
Ingredients:
L-cysteine ​​monohydrochloride monohydrate; Beef gelatine; Palm fruit extract (Serenoa repens) DER 4: 1; Hydrolysed fish collagen; Dew 4: 1; Ashwagandha, Withania somnifera; L-methionine; Zinc gluconate; Mixed tocopherols (vitamin E); L-leucine; Hyaluronic acid 90%; Filler: maltodextrin; Methylsulfonylmethane (MSM); Anti-caking agents: magnesium salts of fatty acids, silicon dioxide; Dye: titanium dioxide; Copper (II) gluconate; Sodium selenate; D-biotin.
Ingredient content in two capsules (recommended daily allowance): L-cysteine ​​- 175mg; Collagen - 160mg; L-methionine - 100mg; L-leucine - 45mg; Saba palm fruit extract - 200mg; Extract from the root of the wintry vodka - 140mg; Hyaluronic acid - 40mg; Methylsulfonylmethane - 30mg; Vitamin E - 18mg (150% ZDS); Zinc - 10mg (100% zds); Copper - 1mg (100% ZDS); Biotin - 300mcg (600% ZDS); Selenium - 55mcg (100% ZDS).
ZDS - recommended daily intake.
Action:
Hairvity Men is a dietary supplement in the form of capsules with ingredients that have a beneficial effect on the skin and hair. Ashwagandha root extract with biotin has an effect on the condition of the skin. In addition, biotin promotes the formation of hair follicles, while helping to promote hair growth. That's not all, it affects the regulation of the secretion of sebum, which is of great importance to the condition of the scalp, and thus the hair. Saba palm extract is often used in male formulas, as it supports natural hair growth. In addition, we also find organic sulfur (MSM), an essential element in the construction of keratin and collagen. The formula also complements the amino acids (Nutri-Amino Complex ™) - leucine, cysteine, methionine and copper,
Use:
Dietary Supplement Supplement Hairtime Men is designed to be used as a supplement to your daily diet with ingredients that help maintain healthy skin and hair. A preparation for men.
Additional Information:
Dietary supplement can not be used as a substitute for a varied diet and healthy lifestyle. Keep product out of the reach of children at room temperature. Protect from moisture and light.
Contraindications:
Do not use in case of hypersensitivity to any of the supplements. Do not use in pregnant women, nursing mothers, or under 18.
Directions for use:
Recommended daily serving: two capsules. It is recommended to take after a meal. The best results can be achieved using the preparation for 3 months. Do not exceed recommended servings for consumption during the day.
Net weight: 43.08g.
---