---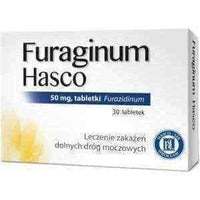 Sale
Hasco Furaginum 0.05g x 30 tablets
Furazinine in Furaginum Hasco 0.05g is an active substance also known as furagine.

It inhibits the multiplication of bacteria that contribute to the development of urinary tract infections.

One tablet contains 50 mg of furazidine.
Hasco Furaginum Composition:
The active substance is furazidine (Furazidinum). One tablet contains 50 mg of furazidine and auxiliary substances: gelatinized starch, maize starch, sucrose, anhydrous colloidal silica, stearic acid 50.
Action:
Furaginum Hasco 0,05g is a medicinal product that contains furazidine - a derivative of nitrofuran. This active substance inhibits the growth of bacteria that cause infections of the urinary tract. For use in acute and recurrent urinary tract infections. Nitrofuran derivatives are recommended for use with a protein-containing meal that enhances their bioavailability.
Application:
Furaginum Hasco 0.05g indicated for the treatment of acute and recurrent uncomplicated lower urinary tract infections. For use over 15 years of age.
Additional information:
Keep out of reach of children at room temperature. Avoid drinking alcohol during treatment with furazinine. Due to the sucrose content of the drug, it is not indicated for people with rare inherited disorders associated with fructose intolerance, glucose-galactose malabsorption or sucrase-isomaltase deficiency.
Contraindications:
Do not use in case of hypersensitivity to any component of the medicinal product, including nitrofuran derivatives. Do not use in women in the first trimester of pregnancy, during pregnancy (from 38 weeks), during delivery (there is an increased risk of haemolytic anemia in the newborn). Do not use in children and adolescents under 15 years of age. Do not use when renal failure (creatinine clearance less than 60ml / min or elevated serum creatinine). Do not use when diagnosed with polyneuropathy (eg diabetic). Do not use when deficient in glucose-6-phosphate dehydrogenase.
Side effects:
Like all medicines, Furaginum Hasco 0.05g may cause side effects. Immune system disorders: rarely - anaphylaxis, angioneurotic edema; unknown frequency - pruritus, urticaria, rash. Blood and lymphatic system disorders: frequency unknown - cyanosis due to methemoglobinemia. In people with a deficiency of glucose-6-phosphate dehydrogenase, the use of furazidine may lead to megaloblastic or haemolytic anemia. Nervous system disorders: common - headache; frequency unknown - dizziness, drowsiness, visual disturbances, peripheral neuropathy, also with acute or irreversible course (especially renal failure, anemia, diabetes, electrolyte disturbances, vitamin B deficiency). Respiratory system disorders, chest and mediastinum: frequency unknown - asthmatic reaction in patients with a history of asthma; acute, subacute and chronic hypersensitivity reactions to nitrofuran derivatives. Chronic reactions have occurred in patients receiving nitrofuran derivatives for at least 6 months. Acute respiratory hypersensitivity reactions have been manifested by fever, chills, cough, chest pain, dyspnea, pleural effusion, changes in the lung radiology and eosinophilia. Most often, they quickly regressed after discontinuation of the drug. In the case of chronic pulmonary reactions (including pulmonary fibrosis and disseminated interstitial pneumonitis), the severity of symptoms and their reversibility after discontinuation of treatment depends on the time of continuation of treatment after the first side effects. It is important to recognize the side effect as soon as possible and stop taking the medicine. Impaired lung function may be irreversible. Gastrointestinal disorders: often - nausea, excessive gas discharge; frequency unknown - vomiting, constipation, diarrhea, dyspeptic symptoms, abdominal pain, loss of appetite, salivary gland inflammation, pancreatitis, pseudomembranous enteritis. Hepato-biliary disorders: rarely - symptoms of drug-induced hepatitis, cholestatic jaundice, hepatic parenchymal necrosis (usually during long-term use). Skin and subcutaneous tissue disorders: rarely - exfoliative dermatitis, erythema multiforme, Stevens-Johnson syndrome; frequency unknown - alopecia (transient). General disorders and administration site conditions:
Dosage:
Use as directed by your doctor or as directed on the leaflet. In adults and adolescents over 15 years of age, it is recommended to take two tablets 4 times a day on the first days of treatment, and two tablets three times a day for the next days. To be taken orally, taken with a meal containing protein. Continue the treatment for 7-10 days. If necessary, it can be repeated after 10-15 days.