---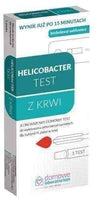 Sale
The test is designed to detect H.pylorii bacteria in a stool sample. The Helicobacter Antigen test can be performed independently at home. The test is very easy to carry out, the result appears after 10 minutes.
Helicobacter Antigen included:
Foil, tightly closed envelope, in which there is: test plate - 1 item, desiccant - 1 item; container with extraction solution and feces sampling applicator - 1 item, instructions for use of the product.
Helicobacter Antigen action:
Helicobacter Antigen test is a medical device for detecting Helicobacter pylori in faeces. This is a screening (screening) test, the result appears in the form of colored stripes. Detection of H.pylori antigen indicates current infection. This result should be consulted with a doctor who will make the final diagnosis and implement appropriate treatment.
Application:
Helicobacter Antigen medical device intended for independent testing for H.pylori in faeces.

Additional information:
The product should be stored out of reach of children at room temperature. It is recommended to protect against moisture and light. Do not freeze. Disposable product. The test should not be performed during antibiotic therapy, when using proton pump inhibitors or bismuth preparations.
Usage:
The product is for external use only. Stool for testing should be collected in a container with the solution. The container with feces and solution should be shaken vigorously to combine the two components. Apply 3 drops of the mixture to the test plate from the container. The test result appears within 10 minutes. The result read after 20 minutes is unbelievable.
---