---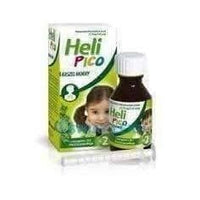 Sale
Helipico 27,78mg / 5ml syrup is a natural therapeutic agent responsible for easing annoying, wet cough. It brings relief to children, adolescents and adults.
Composition:
100 ml syrup contains 555.6 mg dry extract from the leaves of ivy (Hederae helicis foil extractum siccum DER 4-8: 1). Extractant: ethanol 30% (m / m). The other ingredients are: propylene glycol, sorbitol liquid non-crystallising (E420), macrogolglycerol hydroxystearate, potassium sorbate (E202), citric acid monohydrate, xanthan gum, anise flavor, purified water.
Action:
Helipico is a product of plant origin. It consists of a dry extract from the leaves of ivy, which is responsible for an expectorant. Effectively helps in reducing wet cough. It brings relief and helps to alleviate symptoms of respiratory tract infection. Helipico is in the form of syrup intended for oral use.
Contraindications:
- Hypersensitivity to the active components of the preparation
- use in children under 2 years of age
- pregnancy and lactation
Indications:
It is recommended to use the product in children over 2 years of age, adolescents and adults in the case of a wet cough.
Dosage:
For oral use. In adolescents from 12 years of age, adults and the elderly to use 5 ml (full oral syringe) x 1-3 / 24. Children from 6 to 12 years old are given after 54 oral syringe (2.5 ml) x 2-3 / 24. Children 2 to 5 years of age given after 'A oral syringe (1.6 ml) x 2-3 / 24.
---