---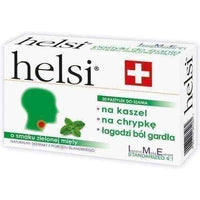 Sale
Home remedies for sore throat. Helsi's green mint paste is a medical product recommended for relieving sore throat and coughing and hoarseness.

Pills result in their natural, standardized extract from Icelandic lichen.
Composition:
Dry extract lichen Icelandic 4: 1 (Iceland Moss Extract), sorbitol, maltitol, gum arabic, chlorophyllin, acesulfame K, ascorbic acid, natural peppermint and spearmint, Capol 4348 (a mixture of beeswax and vegetable oils ), Purified Water.
Action:
Icelandic lime extract and natural peppermint and green peppermint flavors contained in Helsi lozenges will cushion throat, relieve pain, hoarseness and cough. Thanks to the content of Icelandic lichen paste, the paste dissolves in the mucous membrane with a protective layer which shields the mucosa from additional irritation and moisturizes.
Application:
Helsi green mint medical product for use in the case of irritation and inflammation of the mouth and throat; In the course of irritation of mucous membranes of the mouth and throat caused by blocked nose during infection or allergy and excessive use of vocal cords. Product for adults and children over 4 years of age.
Additional Information:
Sugar -free pills. Keep product out of reach of children, at room temperature.
Contraindications:
Do not use in case of hypersensitivity to any of the ingredients of the preparation. Do not use in children under 4 years of age. Do not use in patients with phenylketonuria.
How to use:
Children over 4 years of age, adults: take 1-2 tablets even several times a day. Suck slowly.