---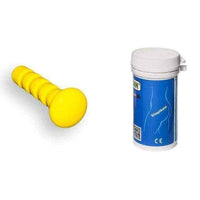 Sale
Cryoapplicator Hemorosan is an innovative medical device that combines the advantages of cryotherapy and advanced, precision applicator.

The product alleviates the symptoms of inflammation of hemorrhoids.

Recommended for pregnant women.

The applicator in yellow.
Includes:
cryoapplicator Hemorosan, hermetically sealed container to hold cryoapplicator in the freezer, use leaflet.
Action:
cryoapplicator Hemorosan operates in an effective and non-invasive, can be used to treat inflammation of hemorrhoids, as well as their prophylaxis. Chilled cryoapplicator relieves swelling, burning and itching, also reduces pain and swelling. Use of the product is two-fold. Firstly, it can be used alone as part of cryotherapy. Secondly sensational works as a precision applicator drugs. Unique tabs are for application of preparations for rectal administration. Applicator provides accurate delivery of therapeutic substances, thereby contributing to their greater efficiency. It is made in full safety material, it uses 100% natural non-invasive technology. We are used solely for the production of high quality materials, which can be used safely in contact with skin and mucous membranes. The center was filled with cold absorber with a unique composition. The absorber absorbs low temperature, and then gradually after the application it calls. In this way, the operating time is extended to the maximum. Cryoapplicator is particularly recommended for pregnant women who have hemorrhoids are one of the most common ailments. The product is simple to use, is reusable.
Use:
A medical device Hemorosan yellow cryoapplicator intended for temporary use in the treatment of inflammation of hemorrhoids. Also recommended during convalescence. Suitable for pregnant women.
Additional information:
Keep out of reach of children, at room temperature. It is certified by the European utility model.
Method of use:
Use as intended. Observe the use described in the leaflet. Cryoapplicator should be replaced at least every 6 months. The product before each use and each time after use must be thoroughly cleaned by washing with hot water. After washing, dry. Cryoapplicator must freeze at least two hours prior to application. The container used for this purpose included. Cryoapplicator inserted into the anus, holding the head, which is the edge of the field at the same time utility. When the body temperature reaches cryoapplicator must be removed, thoroughly wash, dry and re-freeze. In order to enhance the effect, you can purchase two krioaplikatory and apply them one by one. In this way, the effect of cryotherapy will be extended. In inflammation of hemorrhoids it is recommended to use at least twice a day for at least three days, prophylactically at least once a week. The use of ointments, gels or creams: Apply to the tabs cryoapplicator frozen gel or ointment rectal, then enter into the rectum.
---