---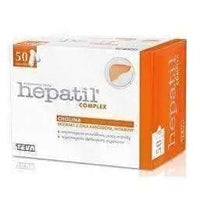 Sale
HEPATIL COMPLEX is a preparation supporting proper condition of the liver and favorably influencing its operation, thanks to the specially selected ingredients.
Recommended for individuals who use poor diet by eating a heavy meal, abuse alcohol and are taking a lot of drugs.
Composition:
soy lecithin standardized namin.35% phospholipids, gelatin, soybean oil, humectant - glycerol, diwodocytrynian choline, thickener - silicon dioxide, vitamin E, a dye - iron oxide black pigments - iron oxide red, vitamin B6, vitamin B1, vitamin B2. the contents of the components in one capsule: Choline 43mg, Vitamin E acetate DL-alpha-tocopherol 4 mg (6 mg), vitamin B6 as pyridoxine hydrochloride 0,47mg (0,57mg), Thiamine 0,37mg ( 0,49mg), Riboflavin 0,47mg Action: Hepatil Complex is a dietary supplement, whose composition has a beneficial effect on the liver and digestive system. It contains phospholipids and choline and vitamins. The preparation especially recommended for people applying unfavorable for liver diet, alcohol abuse and drugs. Dietary supplement for adults. Application: Hepatil Complex accelerates liver regeneration, improves metabolism, prevents the destructive effects of toxic substances.
---