---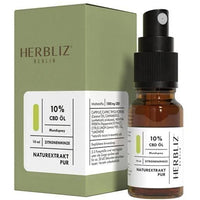 Sale
HERBLIZ CBD mouth spray 10% lemon
mint The HERBLIZ CBD mouth spray lemon mint is the ideal CBD oil for the day. This mouth spray is perfect for those who want to integrate CBD into their lifestyle and are looking for a tasty alternative to pure hemp oil.
This mouth spray combines THC-free CBD isolate with high-quality coconut oil and invigorating lemon and peppermint oil - for a refreshing, tangy, fruity taste. In aromatherapy, peppermint oil is known for its cooling, revitalizing effects, while lemon essential oil brings sunshine into the mind.
The spray was carefully created in the HERBLIZ factory in Berlin and contains only vegan ingredients. The purity of the CBD mouth spray 10% lemon mint has been tested by an independent laboratory.
HERBLIZ CBD mouth spray Product highlights:
• with high-quality MCT coconut oil and pure CBD isolate
• for the care of the oral cavity
• fruity-fresh lemon mint aroma
• free of THC
• without additives and preservatives
• EU-certified quality
• vegan
HERBLIZ CBD mouth spray Use:
Give 3 pumps of up to 3 pumps times a day under your tongue and let it work for about 30-60 seconds.
HERBLIZ CBD mouth spray Notes:
The recommended daily dose must not be exceeded.
Store dry, cool and protected from light.
Do not use during pregnancy or breastfeeding.
Keep out of reach of children.
HERBLIZ CBD mouth spray Ingredients:
CAPRYLIC / CAPRIC TRYGLYCERIDE (MCT coconut oil), CANNABIDIOL (synthetic), MENTHA PIPERITA (peppermint) EXTRACT, CITRUS LIMON (lemon) PEEL OIL, * LIMONENE * occurs naturally in essential oils
HERBLIZ CBD mouth spray Manufacturer
NGP Berlin GmbH
Meinekestr. 27
10719 Berlin, Germany
---