---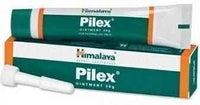 Sale
Hemorrhoids are a very unpleasant and painful ailment. One of the elements of dealing with them is the topical application of ointments or creams. Himalaya Pilex herbal ointment reduces discomfort, has anti-inflammatory and antibacterial properties.
HIMALAYA Pilex ointment, Hemorrhoids, Composition:
Mimosa pudica 5%, Eclipta alba 3%, Vitex negundo 3%, Calendula officinalis 2%, Cinnamomum camphora 1.25%, Tankana 1%, Yashad bhasma 1%, base qs ad 100%. Other ingredients: Propylene Glycol, Methyl Paraben Sodium, Propyl Paraben Sodium, Cetomacrogol 1000, Cetostearyl Alcohol, Heavy Liquid Paraffin, Yellow Soft Paraffin, Purified Water.
HIMALAYA Pilex ointment, Hemorrhoids, Action:
Himalaya Pilex ointment is a preparation recommended for people struggling with the problem of hemorrhoids and varicose veins. The composition of oriental herbs contained in the preparation has anti-infective, anti-infective, anti-inflammatory, analgesic and anti-hemorrhoidal properties. The unique properties of the ointment help with haemorrhoids, reduce bleeding, and support skin healing, significantly accelerating this process. The ointment is also soothing and anesthetic, it brings relief during defecation.

HIMALAYA Pilex ointment, Hemorrhoids, Application:
Himalaya Pilex ointment intended for topical application in the case of hemorrhoids and varicose veins. The preparation accelerates the therapeutic process.
Additional information:
Keep the product out of the reach of children, at room temperature.
Contraindications:
Do not use in case of hypersensitivity to any component of the ointment.
Directions for use:
For external use. It is recommended to apply topically before and after defecation. The ointment should be gently massaged after application.
---