---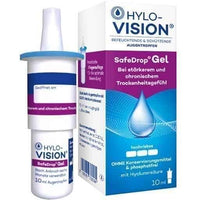 Sale
Hylo-Vision ® SafeDrop ® Gel Eye Drops Moisturizing eye

drops with hyaluronic acid - without preservatives, sterile and phosphate-free. For natural moisturizing: beneficial, well tolerated and long-lasting. For intensive moistening of the surface of the eye when the eyes feel dry. A sterile, preservative-free, highly viscous wetting agent in the innovative SafeDrop ® system, a preservative-free multi-dose container co-developed by OmniVision.
HYLO-VISION SafeDrop Gel improves the long-lasting moistening of the surface of the eye and is well suited for wetting hard and soft contact lenses while they are being worn. This significantly improves the wearing comfort of the contact lenses.
HYLO-VISION SafeDrop Gel Contains hyaluronic acid, a natural substance that is also present in the structures of the human eye and in the tear film. This makes it particularly well tolerated. HYLO-VISION SafeDrop Gel protects and moisturizes the surface of the eye intensively and for a long time and makes it slippery, especially with a strong and chronic feeling of dryness. Its viscoelastic properties ensure an even, stable and long-lasting tear film without impairing vision.
Thus, it causes long-lasting relief of the symptoms of dryness, irritation and mild irritation, in particular


in case of environmental stress, e.g. B. by air conditioning, wind, cold, drought or air pollution, for example by cigarette smoke or

for tiredness and visual stress due to intense vision, e.g. B. on computer screens, microscopes or long car journeys or

when wearing hard or soft contact lenses or during diagnostic operations on the eye.
---