---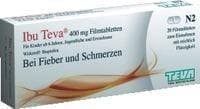 Sale
Ibu Teva 400 mg film-coated tablets, menstrual pain, ibuprofen, headache, toothache

Active substance: ibuprofen.

Areas of application:
Mild to moderate pain such as headache, toothache, menstrual pain and fever.
In the event of pain or fever, do not use for longer than specified in the package insert without medical advice!