---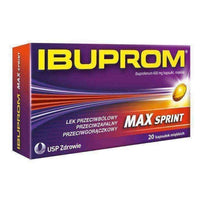 Sale
IBUPROM Sprint MAX x 20 capsules
IBUPROM MAX Sprint has a very quick and effective action. This contributes to an even faster pain relief than when using other preparations. Also it works antipyretic and anti-inflammatory.
IBUPROM Sprint MAX Composition:

1 capsule contains 400 mg of ibuprofen and excipients, including potassium hydroxide, sorbitol liquid, partially hydrated.
IBUPROM Sprint MAX Action:

IBUPROM MAX Sprint a drug belongs to the group of NSAIDs (non-steroidal anti-inflammatory drugs). It owes its action content of the active substance ibuprofen. This component is commonly known that effectively relieves pain and its one of the most common causes - inflammation. Also has antipyretic properties. IBUPROM MAX Sprint is a product that works extremely fast. It has the form of capsules, which is a liquid consistency. This allows the release of the maximum force of ibuprofen nearly three times faster (as opposed to two tablets containing 200 mg of active substance). With this preparation faster and in less time than other fights pain medications of this type.
Contraindications:
- allergic drug components or other NSAIDs
- severe liver function or renal or cardiac
- concurrent use of other NSAIDs, including COX-2 inhibitors
- bleeding or perforation within the digestive tract associated with the prior use of NSAIDs
- haemorrhagic diathesis
- the last three months pregnant
Indications:
Use drug with pains of different origin, which are characterized by low or average severity (eg. Headache, osteoarthritis, dental pain, neuralgia, muscle pain). Also indicated in the case of an elevated body temperature and painful menstruation.
Dosage IBUPROM Sprint MAX :

For oral use. In adults and adolescents over 12 years of age to apply ad hoc 1 caps. Every 4 hours (not advisable is to receive more than 3 kaps./24h).