---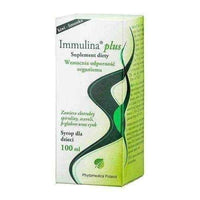 Sale
delicious kiwi-lime syrup that will help strengthen your natural immunity.

The stimulating effect on the immune system is influenced by the unusual composition of the Immulina Plus syrup - acerola and spirulina extract as well as zinc and beta-glucan.
Ingredients:
The content of ingredients in 2.5ml: Spirulina platensis extract - 50mg, acerola extract (Malpighia glabra) - 40mg, including: 25% vitamin C - 10mg (12.5% ​​ZDS), Beta-1.3 / 1.6 -D glucan from baker's yeast - 37.5mg, zinc (as gluconate) - 2.5mg (16% ZDS). Other excipients: simple syrup (containing an aqueous sugar solution), thickener, taste improving substance, acacia gum (E414) stabilizer, potassium sorbate (E202) preservative, kiwi-lime flavor (substance improving taste and smell), demineralized water.
ZDS - recommended daily intake.
Action:
Proven immunostimulatory effect of spirulina extract and Beta-1,3-D glucan particularly favorably affect the so-called innate immunity. Their effectiveness is based on synergistic action. These two components provide substances that mimic antigens (pathogenic, viral, bacterial). In the digestive tract, these molecules are absorbed (phagocytized) by antigen presenting cells, thus activating the entire immune system. In addition, the Immulina Plus dietary supplement contains a valuable acerola extract, which is a source of vitamin C and zinc. They support the action of the first two ingredients, and also contribute to better functioning of the entire body.
Application:
Dietary supplement Immulina Plus syrup intended for use as a means of strengthening natural immunity. Recommended for children.
Additional information:
Dietary supplement can not be used as a substitute for a varied diet and a healthy lifestyle. Keep the product out of reach of children at room temperature. Protect against light and moisture.
Contraindications:
Do not use in case of hypersensitivity to any component of the syrup.
Usage:
Recommended daily dose: children above. 1st year of life: 1/2 measuring cup (2.5ml); children over 3 years of age: 1 scoop (5ml). Shake the bottle before use, take the syrup during a meal. At the beginning of the infection, or in the event of reduced immunity, you can double the amount of syrup you take. Do not exceed recommended servings for consumption during the day.
Net volume: 100ml.