---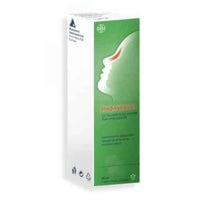 Sale
Influnazal is a homeopathic medicine for the treatment of chronic rhinitis.
What Influnazal contains
The active substance is: Loofah opercula dil. D4 1.0 g in 10 g nasal spray.
The other ingredients are: benzalkonium chloride, edetate disodium, sodium hydrogen phosphate monohydrate, disodium monohydrogen phosphate dodecahydrate, sodium chloride, sodium hydroxide solution (4% aqueous solution), purified water.
Do not use Influnazal if you are allergic to the Loofah operculum or any of the other ingredients of this medicine (described in section 6, for example benzalkonium chloride).
Warnings and precautions
Influnazal contains benzalkonium chloride (used as a preservative). It can cause swelling of the nasal mucosa, especially with prolonged use. If such a reaction (persistent nasal congestion) is suspected and if possible, a preservative-free medicinal product should be used. If such nasal products are not available, the use of another dosage form should be considered.
Other medicines and Influnazal
Interactions with other drugs have not been observed. Please tell your doctor or pharmacist if you are taking, have recently taken or might take any other medicines.
Pregnancy and lactation
Ask your doctor for advice before taking this medicine.
Driving and using machines
Influnazal has no influence on the ability to drive and use machines.
How to use Influnazal
Always use this medicine exactly as described in this leaflet or as your doctor or pharmacist have told you. If you are not sure, talk to your doctor or pharmacist.
The recommended dose is:
Adults: 1-2 injections in each nostril 2-3 times a day.
Use in children
Children under 1 year of age: 1 injection in each nostril 1-2 times a day;
Children aged 1 to 11 years: 1 injection in each nostril 2-3 times a day;
Children aged 12 years and up: 1-2 injections in each nostril 2-3 times a day.
Blow your nose well before using Influnazal.
For the use of Influnazal, please see the illustrations.
For hygienic reasons and to avoid transmission of the infection, Influnazal should only be used by one person.
INFLUNASAL homeopathic nasal spray Application:
Remove the protective cap.
Press the pump 2 to 3 times before first use.
Insert the nozzle into the nose and press 1 to 2 times.
Possible side effects
Like all medicines, this medicine can cause side effects, although not everybody gets them.
In very rare cases, redness, burning and swelling of the nasal mucosa, which makes it difficult to breathe through the nose, have been reported after taking Influnazal.
Note: Existing complaints may temporarily worsen when taking homeopathic remedies (initial homeopathic deterioration). In such cases, stop using Influnazal and talk to your doctor.
Marketing Authorization Holder and Manufacturer:
German Homeopathy Union
DHU-Arzneimittel GmbH & Co. KG, Germany.
---